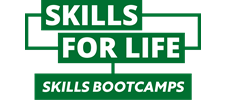 The Growth Company Education and Skills are delighted to announce that we will deliver a series of brand-new Skills Bootcamps from September 2022. The new Skills Bootcamps follow the successful delivery of our initial launch last year in which we delivered Skills Bootcamps in Digital Skills. To date, we have an 84% completion rate and have helped 63 individuals into employment.
Please click on the links to find out more about the Skills Bootcamps delivered by The Growth Company:
Skills Bootcamps delivered by Northwest Skills Academy:
Skills Bootcamps delivered by UA92:
Developed by the Government as part of the Lifetime Skills Guarantee, Skills Bootcamps are being delivered in partnership with employers, providers and local authorities, to help people gain skills for life, help support skills demands in their local area, and ultimately – to help people get a better job.
Skills Bootcamps are flexible courses of up to 16 weeks, giving people the opportunity to build up sector-specific skills and fast-track to a guaranteed interview with a local employer.
Jon Paul-Rimington, Managing Director of GC Education and Skills said; "We welcome the news that we have been successful in our bid to deliver Skills Bootcamps in Green Skills, Construction Skills, and Digital Skills. We are excited to work with our partners to provide adults with essential digital, construction and green skills to support them into new job roles and to access to new work opportunities for those self-employed."
If you are aged 19 or over and wish to develop your digital, construction or green skills to help you find work or progress in a new area, please register your interest by completing the form below.