Exam season is upon us! Starting to think about exams sooner rather than later can make all the difference when it comes to revision, and can have a positive effect on performance and grades. Not only will you have more time to study but you'll be able to adopt a more balanced approach to revision, set clear goals and plan out study sessions in advance.
It's a good idea to start thinking about your next steps after exams and securing a place to kick-start the journey towards your dream career.
Click on the image below to download and save our handy 'Weekly Revision Plan' to help you get started with planning your week!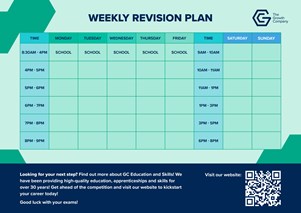 We've put together a GCSE survival guide to help with your studying!